Small to Mid-Size Businesses and CyberSecurity
Cybersecurity Guide for Small and Midsize Businesses: Is Your Business Secure?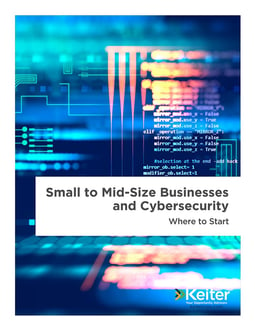 Cybersecurity is a major challenge for businesses of all sizes today, especially with cyberattacks increasing at a rapid rate. However, it is often small and mid-size businesses that are critically impacted by such threats and attacks. Many business owners do not have a real sense of their company's vulnerability which increases the possibility of a breach.
This whitepaper provides important cybersecurity considerations for small and mid-size business executives to consider in order to minimize the chance that a cyberattack may occur. This whitepaper includes:
Good Cybersecurity Starts with Governance
Identifying Your Cyber-Doors and Windows
Knowing Who Has Access to Your Systems
How to Keep Important Data Secure
Backing up data
Educating and Motivating Staff to be Careful