2024 Tax Planning Guide
Year-round strategies to make the tax laws work for you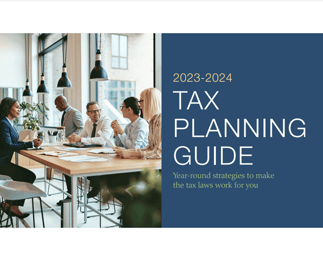 To take advantage of all available breaks, you first need to be aware of relevant tax law changes that are going
into effect — or that have expired. For example, the SECURE 2.0 Act, the massive Tax Cuts and Jobs Act (TCJA) and any new tax law changes that might still be signed into law this year and affect 2023 planning.

This guide provides an overview of some of the key tax provisions you need to be aware of. It offers a variety of strategies for minimizing your taxes in the current tax environment.
This guide covers topics highlighting:
Income & Deductions
Family & Education
Investing
Business
Retirement
Estate Planning
Tax Rates
Use it to identify the best ones for your particular situation with your tax advisor, who also can keep you apprised of any new tax law developments that might affect you.